Elephant Welfare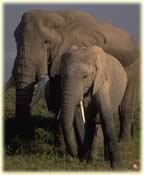 ---
Tina And Jewel Being Treated For Medical Needs
Thanks to your help and continued pressure from In Defense of Animals, the U.S. Department of Agriculture (USDA) and the U.S. Fish and Wildlife Service (FWS) confiscated the elephants Tina and Jewel on August 20 from their abusive circus handler, Will Davenport. (See news report here.)
News reports indicate that Tina and Jewel have been taken to the San Diego Zoo. While ideally we would have liked these elephants to go directly to a sanctuary, we understand that Jewel is very ill and in need of intensive medical care.
IDA commends the San Diego Zoo for stepping up to help Tina and Jewel and provide the essential veterinary care they need. We are also relieved that these two closely-bonded elephants will remain together in San Diego, where they will never again have to face fear and punishment with a bullhook or be trucked across the country and forced to perform. We will continue to watch closely for word of progress in these elephants' recovery.
IDA members should feel very good about this victory. It is never easy to get one, let alone two, federal agencies to act to help animals. This rescue is evidence of democracy in action. The tens of thousands of calls, emails and letters that our members have sent, along with IDA's investigative work, have made a difference in the lives of these elephants!
IDA has also learned that Davenport, in addition to surrendering the two elephants, relinquished his USDA exhibitor's license, meaning that he is by law prohibited from exhibiting Queenie, who remains in his charge.
Queenie Still Needs Our Help
With Tina and Jewel safely housed at the San Diego Zoo, our attention now turns to Queenie, also known as Boo.
In a 2006 undercover video taken by Animal Defenders International, Mike Swain, an employee of the Bailey Brothers Circus, a Davenport family operation, is shown to be kicking, beating, hooking and using an electric shock device on Queenie/Boo and another elephant named Chrissie.
In a March 2007 inspection, the USDA found Queenie's handler (Will Davenport) to be inadequately trained and experienced and unable to handle the elephant in a safe or humane manner:
The elephant had "multiple wounds draining yellowish exudates inside the left ear" that handlers had not reported. Wounds would be "consistent with the improper use of an ankus in the ear."
The handler was found to be "not properly trained or experienced." He "had to continuously rely on excessive and inappropriate use of the ankus to get the elephant to perform the behaviors he was asking for during the rides and performances . . . during the rides and performances, the handler was observed repeatedly jabbing and hitting the elephant with the ankus. Several times during the elephant ride, the handler used the ankus to hit the elephant and she reacted by throwing her head and changing her gait demonstrating irritation at the action of the handler . . . This is inappropriate and abusive use of the ankus and such use is likely to cause trauma, behavioral stress, physical harm or unnecessary discomfort . . . This type of inappropriate use can cause the elephants to become more aggressive." (Emphasis added).
Queenie/Boo must be removed from this situation.
For now, Queenie remains chained to a tree in Leggett, Texas, in the hands of a man who has demonstrated time and time again that he is unable or unwilling to provide her with the care she needs.
The USDA has informed our members that they intend to go back for Queenie, and we need to make sure that this rescue happens.
Please call or email USDA Undersecretary Ann Wright regularly until Queenie is safe. Thank her for the agency's actions to rescue Tina and Jewel and urge them to return as swiftly as possible to rescue Queenie. Queenie is not physically ill and can go directly to one of the two sanctuaries that have offered her a permanent home. The USDA must do whatever is necessary to ensure that Queenie's long years of abuse come to an end and that she is sent to a sanctuary without delay.
Ann Wright
Deputy Undersecretary for Marketing and Regulatory Programs
U.S. Department of Agriculture
Phone: 202-720-4256 OR 202-720-7813
Fax: 202-720-5775
Email: ann.wright@osec.usda.gov
Please also follow up with your Senators and Congressional representative. If they have been responsive in the past, be sure to acknowledge their help and role in Tina and Jewel's rescue. Urge them to continue to pressure the USDA to rescue Queenie as well and be sure to specify that she is sent to a sanctuary without delay.
Find your federal representatives here:
http://ida.convio.net/site/PageServer?pagename=electedOfficials
Thank you!
---
IDA Tells Six Flags to Tackle Elephant Problem
IDA held a press conference last week in front of Six Flags Discovery Kingdom in Vallejo, Calif. to issue a report on the state of the elephants at the amusement park.
Read more: http://www.helpelephants.com/feature_070703.html
Source: is IDA at http://www.helpelephants.com/index.html
---
Live Elephant Exploited for Art Exhibit
A spray-painted elephant was put on display in downtown Los Angeles last week as part of an art exhibit entitled "Barely Legal" by a British artist called Banksy.
SOURCE: In Defense of Animals
http://www.helpelephants.com/feature_060920.html
---
SAVE ZOO ELEPHANTS Elephants are highly complex, social animals. In the wild, they live in extended family groups. They form lifelong bonds and females stay with their mothers, aunts, sisters and other female relatives for their entire lives. Males stay with their mothers for up to fifteen years. These intelligent animals can travel more than thirty miles a day.
Today's zoos are unable to meet the physical, psychological and social needs of elephants. Zoos socially deprive elephants by keeping them in unnaturally small groups and routinely break up any bond formed in the zoo world when zoos shuffle elephants and other animals from one zoo to another for breeding or to make room for younger, wild-captured elephants.

SOURCE: Save Zoo Elephants
http://www.savezooelephants.com/